Treating your summerhouse, log cabin or gazebo
If your summerhouse is protected against the sun, wind, and rain, you will be able to enjoy it for a very long time. For effective protection, you must treat the summerhouse on the inside and out, preferably before it is assembled. It will then be protected against the elements. You can treat your summerhouse yourself or let us do it for you. The lifespan of your summerhouse/log cabin depends on proper maintenance. Check your summerhouse/log cabin annually (for cracks/unevennesses) and ensure proper and regular maintenance.
We recommend that the timber is impregnated with appropriate treatment. This should then be covered with opaque or transparent paint. We recommend paint that is moisture-regulating, durable, elastic, and breaths. It should also offer adequate UV protection. Never use varnish or clear stain on the outside. Our paint meets all the requirements for effectively treating your summerhouse. Order paint from our dealers.
Our summerhouses, log cabins, and gazebos are supplied untreated unless you stipulate otherwise. You can, however, opt to have your summerhouse or other product treated by us. Lugarde has some great options, which are both top quality and environmentally friendly. You can choose from the following treatment options, which will be applied to your summerhouse, log cabin, wooden garage, gazebo, or carport before delivery.  
Pre-treatment
Sprayed impregnation (Pre-treatment) treats the inner and outer sides with an undercoat. It protects your summerhouse against fungi and rots.
In order to optimally protect the summerhouse against weather influences after this pre-treatment, it is important to observe the following advice.
In case of a colorless pre-treatment, you should immediately apply at least 2 layers of stain.
In case of a transparent white pre-treatment, apply at least 2 coats of stain within 6 months.
All other colors should be refinished within one year with at least two coats of stain.
This will protect your outdoor living to come against various weather conditions and UV radiation for 2-4 years, depending on where the house is located. 
The advantage of sprayed impregnation is that the inside and all of the bits that can't be reached after assembly are treated upon delivery. We can spray-treat our summerhouses and gazebos in colorless or four transparent colors: white, graphite grey, brown or light grey.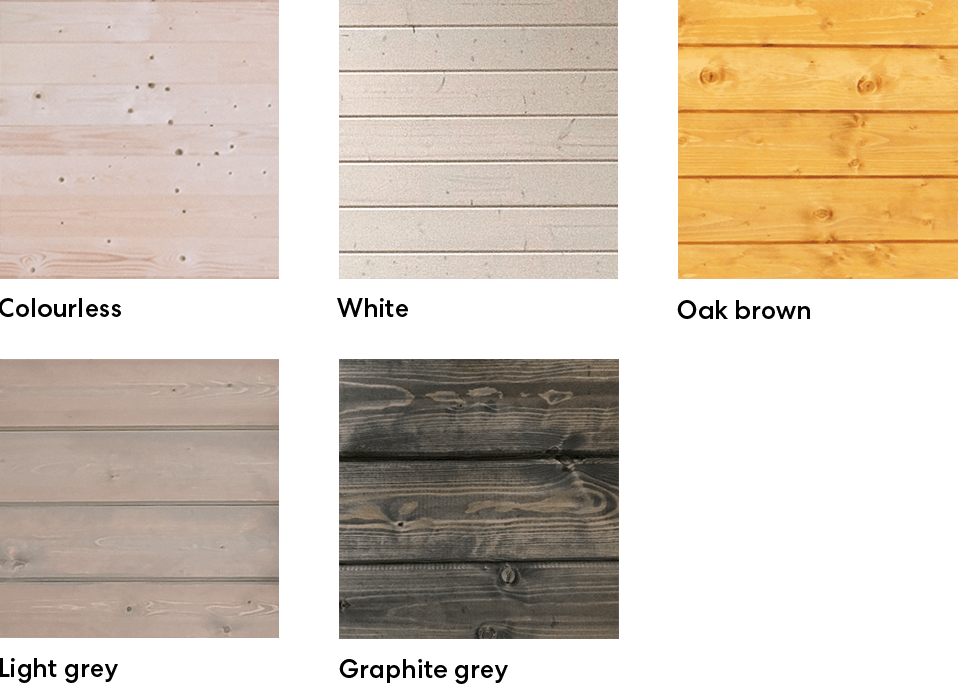 MORE INFORMATION ON LUGARDE PAINT
Stain = Pre-treatment + 1 layer of stain sprayed
The insides and outsides of the walls, canopies, and posts of our summerhouses can be pre-treated with a transparent undercoat (see "Sprayed impregnation"). The outside can then be painted in the color of your choice. You can do this yourself, or let us do it for you. You can indicate the stain color you would like when you place your order, you can choose one of the RAL colors in our range. The posts and balustrades are painted all over and the walls are painted on the outside. This treatment will protect your summerhouse for 2-4 years. Depending on the location of the building and the weather conditions.
In individual cases, the naturalness of our wooden buildings involves smaller unevenness on the surface of our walls and posts. These occur due to varying wooden structures and fine resin residues. Smaller color nuances can occur as a result. Hand sanding of individual irregularities in the wood structure and an additional layer of paint make individual irregularities almost entirely disappear. This treatment will also protect your summerhouse for another two years.
The most optimal protection and the best result can be achieved by lightly sanding down the paint layer after assembly and by applying a layer of paint.
This paint is water-based and more environmentally friendly than oil-based paint. This paint offers optimum protection against UV radiation, moisture, fungi, and rot. Partitions under a gazebo are painted only on the outside. The inside is pre-treated with transparent paint. On request, we can also supply other colours. You can also order pots of paint in the same colour for the inside of the canopy.
MORE INFORMATION ON LUGARDE PAINT
Pressure treatment method
Pressure treatment can be applied to the following cabin types:  
Log Cabins 
PRO system 
Panel system 
During the pressure treatment process, the treatment agent is forced under pressure into the core of the timber.  After filling a vacuum/pressure vessel with wood, a vacuum is created inside this vessel (and hence the air is "pulled" out of the wood)   The vessel is then flooded with a preservative solution, and at the same time pressure is applied to the vessel in order to have the preservative penetrating deeply into the wood cells. 
Moisture content: Pressure-treated wood is extremely moist and that requires us to let it dry for an extra 2 weeks, this also implies that the lead time for delivering a pressure-treated cabin is increased with 2 extra weeks.  For easier fitting, we advise you to let the pressure-treated wood dry an extra 3 weeks after it has been delivered to you. 
Colours: Colour-wise you can choose green or brown. 
Maintenance: Pressure-treated wood will last a long time, for mold and parasites won't get a chance to let your wood decay quickly. As with all wood, pressure-treated wood can turn grey over time, furthermore, the pressure treatment does not make the wood watertight (There can be some ingress)  The greying process as well as the chance of water ingress can be avoided by regularly treating the wood with a preservative, we advise a wood-oil product rather than wood stain. *  Wood oil has the advantage that in case you stop maintaining your wood it will not blister off, of course, the greying process will then continue. 
Sometimes the pressure treatment makes the timber bend, making installation a little trickier. There may also be small cracks in the timber, but this just adds to the natural look. It is possible during heavy rain/wind, there is some water ingress through the knots/joints. This can be prevented by properly ventilating the cabin and/or treating the knots, end edges/joints with an edge sealant. 
   * Please be aware that choosing a wood-oil product has the consequence that later on you cannot easily switch to other products, as is the case with other products like water– or alkyd-based stains. 
More pressure treatment information
More pressure treatment information
Below are some practicalities related to choosing pressure treatment, that we advise you to take into account:
– All the timber of your cabin will undergo the pressure treatment, which also goes for optional features like :
An internal floor.
The timber of an insulated wall.
A ceiling

->   The only exception to the rule above is Windows and doors and/or larch deckings.
– To achieve the best possible penetration of the impregnation agent, the wooden parts are stacked in layers by using so-called stickers. This means that when unpacking the timber you may see some "striping" as shown in the picture below. This will however fade away over time.
– When assembling pressure-treated timber, it may still be relatively moist and hence swollen, the following aspects apply in that respect:
It can be more challenging to have the wood fit snugly. For an easier fit, we advise you to let the wood dry for at least another 3 weeks prior to installation.
Pressure-treated wood is more prone to develop drying cracks this is absolutely normal and will not compromise the lifespan of the wood.
Gap above the door at pressure-treated cabins
All our pressure-treated (log- or pro-system cabins) are designed with a void above every door- and window frame. This is to allow the stacked wallboards to shrink and keep the upper wallboards from "leaning" on the frame. Right after installation, this clearance can get up to 6 cm (depending on the moistness of the wood and weather conditions) there is however no need to worry, this is perfectly normal for pressure-treated wood.
Please avoid filling this void with a wooden slat or expansion foam, the wood will settle eventually and the gap will disappear.
Treatment of doors and windows
Sprayed impregnation
You can let us spray impregnate the doors and windows of your summerhouse, log cabin, or gazebo. You can choose from four transparent colours: white, light-grey- graphite grey, colourless or oak-brown.
Sprayed impregnation is a pre-treatment. To protect your summerhouse against fungi and rot, the windows and doors must be painted or stained within a year. And don't forget to stain the top, bottom, and sides of the door too.
Stain
We can also deliver the doors and windows for your summerhouse, log cabin, or gazebo already painted. In order to protect the windows and doors from outside influences, they are (spray) impregnated twice and then painted in the desired colour. These three layers protect your summerhouse against the elements for 2-4 years. (Depending on the location of the building and the weather)  This offers great protection against moisture, UV radiation, and fungi.
Which paint treatment or impregnation option do you prefer? Choose this treatment and/or impregnation option when you order the garden building of your dreams. To find your ideal garden building, take a look at our log cabins, pavilions, and garages our discover our unique 3D configurator!