The new way of working starts in your own garden
More and more people see the benefits of working from home. As an employer, you benefit from higher productivity and lower absenteeism, and as an employee, you benefit from less travel time and more balance between work and family life. But not every house is suitable as a workplace. Because of lack of space, for example, or because it is not peaceful enough. With a summer house as an office, you have a workplace that is completely tailored to you, with all the advantages of the new way of working.
6 benefits of a garden office
Eliminate travel time and costs
Your own office where you can concentrate on your work in peace
A comfortable workplace that is fully designed to meet your wishes and requirements

Work more efficiently through flexible working hours
Can be set up as an office, but also as a yoga room, nail salon or recording studio
After work, close the door and walk home, toward your leisure time
Easily design your garden office online
With our 3D configurator, you can easily and quickly design a garden office that suits you. Determine the shape, dimensions and materials yourself. Choose an empty template or an existing design and customise it as needed. When the design is ready, you can view your dream workplace in 3D from any perspective.
*The 3D configurator is currently not yet available for mobile phones.
4 simple steps to achieve your dream workplace in the garden
List all wishes and requirements
Think about what your workplace has to meet. How much space, daylight, insulation and sockets do you need?
Design online with the 3D configurator
Design your ideal garden office online. Choose the style, materials and finish that suits you.
We make the building elements to measure
When you have finished the design, we will start working on your order. We make all the components in our own factory
Your new garden office is ready for assembly
Choose to assemble it yourself or make use of our assembly service.
Exchange the lease car for a garden office
Just like a company car, a garden home office can also be an attractive employment benefit. Employees spend less time travelling and start fresh and energetic in their own workplace. Lugarde's garden offices have a long lifespan with minimum maintenance and maximum comfort. In addition, as an employer, you do not have the administrative hassle that come with company cars. Would you like to know more about the possibilities of a garden office for your employees?
The largest provider of tailor-made summer houses
Lugarde has been designing and producing high-quality wooden summer houses, log cabins and verandas for more than 40 years. As the largest provider of custom-made summer houses, we have points of sale throughout the Netherlands. Would you like to take a closer look at our garden offices and experience the possibilities?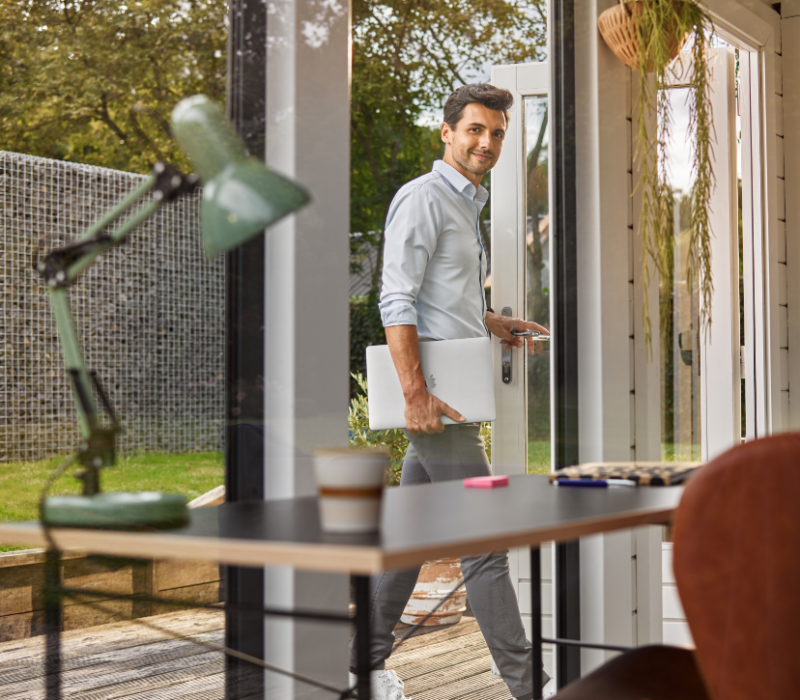 Lugarde has been designing and producing high-quality wooden summer houses, log cabins and gazebos for more than 40 years.
Customisation is our standard
About 90 percent of all the products we make are made to measure. This way, we ensure that your garden office fully matches your taste or the architectural style of your house. Are you looking for a workplace with a modern look? Or do you prefer a classic or rural look?
Request more information
We're here to help, so please give us a shout. Use the form below to drop us an email. Or good old fashioned phone calls work too via +31 (0)573 401 800