A summerhouse offers many opportunities in terms of interior design, and there are no limits on how creative you can be. Would you like to transform your summerhouse into a true Man Cave or She Shed? Then let us give you a few design ideas for your garden room with integrated shed and we guarantee you'll be inspired.
She Shed ideas
Craft room
A summerhouse is perfect for setting up a craft room where you can let your creativity run free. It offers plenty of space for storing your craft utensils and lots of work surface too. Dive into your creative world and create your own masterpieces.
Reading room or a library
Would you prefer to lose yourself in your favourite books, but want a cosy space where you can enjoy them in peace and quiet? Then why not set up your own small library with a reading corner in your summerhouse? Hang shelves and fill them with your favourite books to experience them in a whole new atmosphere.
Sewing room
Is your passion sewing? Then set up your sewing room in your summerhouse! Find a place for your sewing machine and cutting table, and organise your fabrics, yarn and small items such as buttons in a beautiful cabinet system. Here you can be creative and discover the fashion designer inside you.
Wellness space
To relax after a long day, a sauna or a hot tub is just the thing. With a wellness room in your summerhouse, this relaxation oasis is just a stone's throw away and you can enjoy relaxation at any time of the day.
Lounge
Would you like a unique lounge area where you can spend convivial evenings with your friends? Create one in your summerhouse. Here you'll have enough space for a lounge area, a TV and a small fridge to keep drinks chilled.
Man cave ideas
Workshop
If you're technically minded, a workshop in your summerhouse is just the thing for your small projects. Set up a workbench with all your tools and start fixing.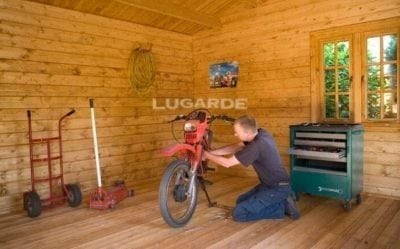 Bar
Many people would love to have their own bar, and you can make this dream true in your summerhouse! Set up your own bar counter with bar stools and a beer dispensing machine, and give your bar a unique name. Your summerhouse will become the favourite meeting place for all your friends.
Sports room
It doesn't matter if it's Formula 1, football or tennis – you're a devoted sports fan. So a sports room is perfect for you, and your summerhouse offers the ideal location! Here you can watch your favourite sport in front of the TV and enjoy a cold beer with no disruptions. If you choose a bigger summerhouse, you'll have enough space to set up a game of table football as well.
Band room
Do you need a new rehearsal room for your band? Why not turn your summerhouse into a band rehearsal room? Here you have enough space to set up and play your musical instruments without disturbing anyone. Of course, you can easily soundproof your summerhouse. And if you choose a bigger option, your summerhouse can also be converted into a small recording studio.
Game room
Your summerhouse provides the perfect place to set up a games room. A pool table, slot machines, a poker table or darts – you decide what to put into your games room. The bigger the summerhouse, the more of your favourite games you'll be able to fit in. Have you found the right design idea for your summerhouse? Or are you still looking for the perfect one? Take a look at our wide selection of summerhouses and log cabins to find the perfect option for your Man Cave or She Shed!  
Did you like this blog? Sign up to our free monthly newsletter and you will receive blogs like this one every month!